We Build Value Into Every Wood Palace Kitchen
Value is usually equated with money. It is most often defined as the monetary worth of something or the market price. Something may have a high monetary value and cost a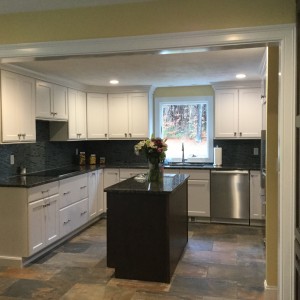 lot or be a bargain because its value is good in relation to its cost. At Wood Palace, we look at value differently. In addition to value for the money, we build value and our values into every Wood Palace Kitchen.
Value in terms of quality. We have the highest quality standards for every kitchen no matter what the price point.
Value as an asset in your home. We design kitchens that are in line with trends, but will also be in style and a beautiful asset in your home for a long time.
Value in our designs that use our Dream First™ process to take your family, your wishes and your lifestyle as primary factors in the design. Our designs are all about our customers.
Value in the way we work with our customers to create a simple, enjoyable experience out of what can be an overwhelming and stressful change in a customer's home.
Value in materials and workmanship. We started out in this business building our own cabinetry and we understand materials and workmanship better than most. That means you will get the best your money can buy.
Value in how we stand behind our kitchens. All cabinet manufacturers give warranties, but at Wood Palace, we stand behind the products and the labor if we install your kitchen. We believe in what we do and how accomplished we are at doing it.
Value in customer service long after the sale. We have been in business for over 38 years and we will be here when you need a hinge adjusted or a replacement part for many years to come.
Value in the long term relationships we make with our customers. We truly value our customers. Many we call friends. Many have come back to Wood Palace for a second or third kitchen remodel over the years as their tastes or family situation changes or they move into a new home.
Deciding the value of something is really quite subjective. The relative worth, utility or importance of the item plays into its value. What is worth a lot to one person may be worth very little to another. So value is really the perceived value in terms of money weighed against the usefulness, beauty or other characteristics and your desire to have it. At Wood Palace we understand value and it is one of the cornerstones of our business. We build value into every Wood Palace Kitchen.
Save
Save
Save
This entry was posted in
Kitchen Remodeling
on
.