Swiss Chard Burrito with Mushrooms and Cauliflower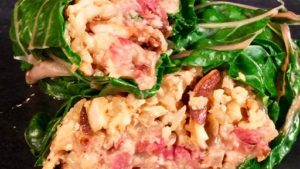 Everyone wants to lighten up in January. This is a great way to start!
Ingredients:
4 tablespoons olive oil (divided)
2 cups shiitake mushrooms (thinly sliced)
1 small yellow onion (peeled, sliced)
2 cloves garlic (peeled, minced)
1 tablespoon ginger (peeled, finely grated)
2 cups cauliflower (grated on the large holes of a box grater)
8 large Swiss Chard leaves (stems removed, reserved and chopped into small dice)
1 15- ounce can red kidney beans (drained, rinsed)
Kosher salt and freshly ground pepper (to taste)
hot sauce (to serve)
Directions:
Bring a large pot of salted water to a boil. Place a piece of wax paper over a cutting board and set aside.
In a large saute pan over medium high heat, add 2 tablespoons olive oil. Add mushrooms, onions, garlic, and ginger, stirring to make sure the mixture is an even layer. Cook until softened and the mushrooms are brown, about 5-6 minutes. Season with salt to taste.
Push the mushroom mixture to one side of the pan and add 1 tablespoon of olive oil to the empty half of the pan. Add cauliflower and cook briefly until it begins to brown, about 4-5 minutes. Stir the mushroom mixture into the cauliflower until fully combined and re-season to taste.
Transfer mushroom mixture to a bowl and set aside.
Place the same pan back over medium high heat and add remaining 1 tablespoon of olive oil. Add the Swiss chard stems and kidney beans. Season with salt and pepper and saute until the stems begin to soften, about 5-6 minutes. Add 2-3 tablespoons of water, remove from heat and mash the beans with a potato masher until the mixture becomes creamy. Remove from heat and set aside.
Meanwhile, fill a large bowl with ice water and set it next to the pot of boiling water. Line a plate with paper towels.
Add the Swiss chard leaves to the boiling water and cook for a 2-3 seconds or until wilted but not completely soft. Remove leaves from water and shock in the bowl of ice water to stop the cooking process. Transfer leaves to the prepared plate and set aside to drain.
To assemble: Lay out 2 strained Swiss chard leaves on prepared wax paper, overlapping as necessary. Spoon a row of bean mixture lengthwise from one end of leaves followed by a layer of the cauliflower mixture. Carefully roll the leaves up, tucking in the ends before the final roll. Slice in half and serve.
Tip: Make a large batch of cauliflower rice and store it in an airtight container in the refrigerator for up to one week! Use it in any meal instead of rice to help you maintain your resolutions!
This recipe is from The Chew and was developed by Iron Chef Michael Symon.
This entry was posted in
Recipes
on
.