Summertime Serenity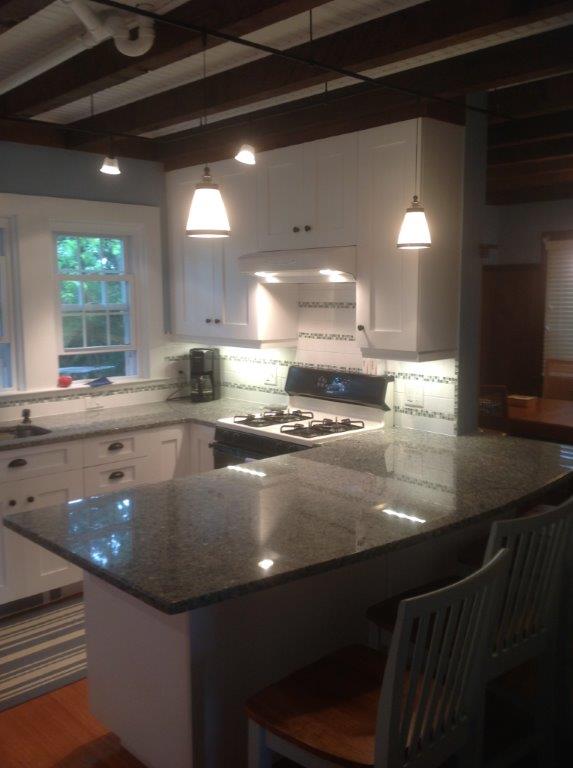 The thoughts of summer in New England start in early spring. Winters are long around here so thoughts of those summer getaways are always popping up in our minds. Whether it's an all summer long getaway or just a few weeks of vacation, thinking of the beach and the sand through our toes bring a smile to a New Englander.
This month's featured kitchen comes from a Connecticut client who vacations as a family in the summer here on our beautiful Massachusetts beaches. It's a beautiful summer home where they unwind from the normal, hectic life back home. The summer house needed an uplift so they hired a local contractor who buys kitchens from Wood Palace. I met with the clients and started the process to find out their needs.
Classic Beach was the theme for their vacation home. A mix of modern was added with a wider stile painted door style. The kitchen needed to be bright and functional for this family of five. Since it was a smaller space, Ultracraft full access cabinets were chosen to maximize the space. There is no table in the kitchen so they needed space for 5 stools at the peninsula. The counter top was brought out in an arch shape to maximize the size to fit those stools. It also brought a little dimension into the smaller space. There was a small, nook area that we housed an angle tall cabinet to increase the storage in the kitchen. It gave the space a nice custom, built-in look. The microwave was built-in to the left of the fridge to centralize the appliance away from the work area. The cabinets were open above to showcase the beautiful, old wood beams and wainscot ceiling.
Cabinets chosen were Ultracraft's Destiny series in a wide stile Shaker Wide door style in their Arctic White paint. Beautiful, old looking bronze knobs and cup pulls accented the cabinets beautifully, giving it a rustic flare. Beautiful granite counters topped off the kitchen giving it that sparkle as well as a durable surface.
All in all, the space is a chef's dream and a wonderful area for entertaining in the warm, summer months. The area is light, bright and gives that beachy feel that we seek. Where will you vacation this coming summer? Whether it's a rental or your summer home, take the time to relax, enjoy the sun and make some new memories with friends and family that will keep you smiling all year long!
Bon Appetit!
Tim Holick (Food A Holick)
Save
This entry was posted in
Kitchen Remodeling
on
.