Spaghetti with Chianti and Fava Beans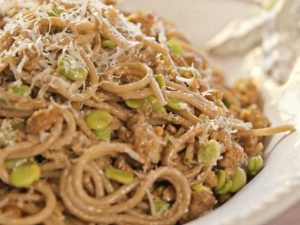 When I saw Giada De Laurentiis do this recipe on Food Network, I thought it was very creative. Try it!
Ingredients
One 750-milliliter bottle Chianti wine
Kosher salt

Add the wine, 8 cups water and a handful of salt to a pasta pot. Bring to a boil over high heat. Add the spaghetti and cook until just shy of al dente, about 8 minutes.
While the pasta is cooking, heat a large skillet over medium-high heat. Add the oil and sausage to the hot pan. Cook, breaking up the sausage with the back of a wooden spoon, until almost fully cooked, about 4 minutes. Add the shallots and garlic, and cook an additional 2 minutes, stirring often. Using tongs or a pasta fork, remove the pasta directly to the sausage pan. Sprinkle with 3/4 cup of the Parmesan, and toss with tongs to combine. Add the mascarpone, fava beans, rosemary, 1/4 teaspoon salt and about 1 cup of the pasta water. Stir with a wooden spoon to combine, adding more pasta water as needed to form a sauce and coat the pasta. Serve sprinkled with the remaining 1/4 cup Parmesan.
This entry was posted in
Recipes
on
.