Replacing Your Old Counter Tops in Your Kitchen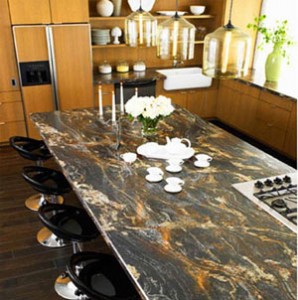 It never fails that in the first months of the year, we all get the itch to do a project or two in our home. In the beginning of the year, we have many clients walking into our showroom to add an island, a vanity or replace their kitchen counters. You can count on it like the seasons. Counters are the #1 item that they want to do. With all the options of different materials these days, it's no wonder the first words asked are: "what is the best choice for me"? This is where Dreaming First and the listening that we do helps in the answering of your questions and guides you to make the right decisions for you.
We could sell you anything we want and it is very easy for someone to convince you to buy what they want to sell you. This is where I say to people; "you don't want to be sold something, you need to be helped so that you make the right buying decision. Big box stores are famous at this time of year with their big specials on counter top materials that they want you to buy. I equate this to shopping for food or clothes, there is a big special going on this week so we buy it. We don't eat or wear that normally but what the heck, it was a great special. The world has been plagued by specials that get bought but never used or make us happy.
I have a story that I would like to share that goes well with my last paragraph. I had a good friend that called me to help out a fellow worker who had purchased a complete kitchen the year before from someone. He explained that his counters were failing. I made an appointment at his home to go see if I could help him. He was convinced to buy a concrete counter top that is poured over plywood that had an epoxy finish poured on the top and exposed edges to make it durable and easy to clean. He was told that it would save him considerable money over granite. The epoxy was coming off in numerous places. Unfortunately it could not be fixed. What was much worse though? He could have had granite for only around $500.00 more than what he purchased this counter for in the whole kitchen. Unfortunately he was sold by a sales person who cared more about the sale than the happiness of the client.
What's a consumer to do you ask? As soon as you hear a sales person try to sell you something or convince you to buy something you might not need, run away. It's the sales professional that will ask you good questions and help you pinpoint where and what you should be looking at. I have many clients come into our showroom and ask for granite. When I ask why they want granite, the answers vary from; "everyone has it" and "I see a lot of signs at businesses that they have it on sale". My first thought when I hear this is; "but do you need it or want it"?
The most widely used materials are granite, quartz, solid surface and laminate, in that order. People  buy granite because it is a real, natural material that it is hard and durable. People buy quartz because it is non porous, green and a hard, durable surface. Quartz is usually around the same price as your mid to higher level colors of granite. Cambria, Silestone and Caesar Stone are very commonly bought brands. People buy solid surface materials like Corian because it is non porous, soft looking, seamless and because scratches can be sanded out. Solid surface material is around the same cost as a mid priced granite color. Laminate is your least cost material with many new colors and finishes that look like granite. People buy it because of the low cost and that they really don't care if they have a higher price stone. They figure they can buy 5 new tops over the years before they hit the price of stone or solid surface. Recycled glass material is the least material sold because of the look and the cost. Very expensive and trendy.
When choosing what is right for you, make your final decision by the points of each material I pointed out above. It also has to fit your colors and tastes of your existing kitchen. Make sure you work with a good sales professional and stay away from a sales person who doesn't ask good questions and pushes you to their product of the week or month. A good caring professional will guide you with the style, color and material that fits your needs and taste. Remember this; sale prices are nice but only when they are right for you! Boun Apetit and make some great memories in your kitchen!
Tim Holick
This entry was posted in
Countertops
on
.