Potato Salad
2018 Recipe Contest winner (Best Sides) Elise Norman shares her potato salad recipe with us.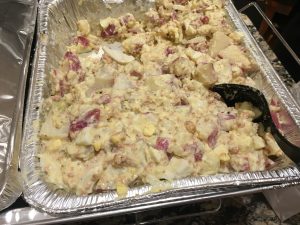 INGREDIENTS
3 lbs red potatoes
1 tsp onion powder
1 tsp garlic powder
1/2 tsp ground black pepper
1/4 tsp salt
1/2 cup and 1/4 cup Kens Italian Dressing and marinade
6 hard boiled eggs
3 oz Bacon Bits
1 1/2 cup Mayonnaise
DIRECTIONS
Cut potatoes into bite sized pieces and boil until fork tender. Drain potatoes and place in to a large bowl. Add onion powder, garlic powder, salt, pepper and 1/2 cup of Kens dressing to hot potatoes. Cover potatoes and chill overnight.
Once potatoes are chilled overnight add mayo, 1/4 cup Kens dressing, chopped boiled eggs and bacon bits together. Salt and pepper to taste.
This entry was posted in
Recipes
on
.