Maple Mustard Salmon with Asian Slaw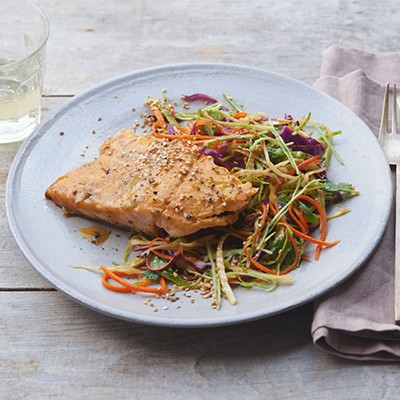 Serves 4
1 center-cut salmon fillet, preferably wild Alaskan (about 1½ pounds)
½ teaspoon salt
¼ teaspoon ground black pepper
2 tablespoons pure maple syrup
1½ tablespoons whole grain Dijon mustard
¼ cup orange juice
1 tablespoon lime juice
1 tablespoon rice vinegar
1 tablespoon extra virgin olive oil
1 to 2 teaspoons Sriracha hot chile sauce
1 teaspoon toasted sesame oil
1 small clove garlic, minced
1 teaspoon grated fresh ginger
½ teaspoon honey
1 bag (14 ounces) prepared coleslaw mix (shredded cabbage and carrots)
3 tablespoons chopped fresh cilantro
2 teaspoons toasted sesame seeds
Directions
Step 1.
Heat the oven to 425°F.
Step 2.
Place the salmon skin-side down on a foil-lined baking sheet and season it with ¼ teaspoon of the salt and all of the black pepper. Stir together the syrup and mustard, and brush half the mixture over the salmon. Roast the fish for 15 minutes. Brush the remaining syrup mixture on the salmon and roast until just a little moist and translucent in the center (125°F internal temperature), 4 to 8 minutes more, depending on the thickness of the fish. Remove the salmon from oven and let it stand for 5 minutes.
Step 3.
Meanwhile, whisk together the orange juice, lime juice, vinegar, olive oil, hot sauce, sesame oil, garlic, ginger, honey, and remaining ¼ teaspoon of salt in a medium bowl. Add the coleslaw and cilantro, stirring to coat.
Step 4.
Divide the fish into four portions and place them on plates, leaving the fish skin on the foil. Place the slaw on the plates and garnish everything with the sesame seeds.
Tip: To brighten the flavor, serve the fish with lemon wedges for squeezing.
Recipe courtesy of Panera Bread.
This entry was posted in
Recipes
on
.