I've Got the Blues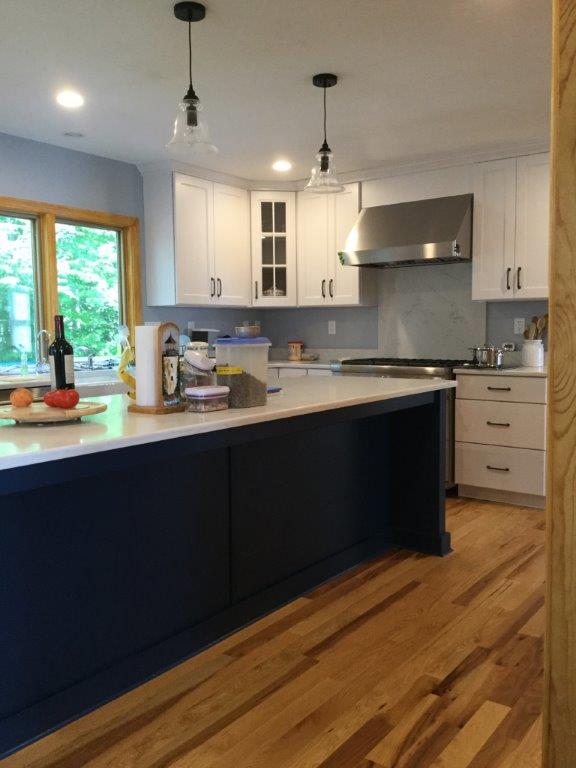 The trends are still leaning towards transitional in the residential market. It has been fluctuating from traditional to modern, modern to farmhouse and modern to beach. This month's feature wanted modern farmhouse. As I have mentioned in the past months, starting out with a style theme is paramount. It gives designers a chance to help you bring the style of cabinets together with colors and materials. Bright blues have hit the stage strong in the last couple of years. Big, bold blues are hot in the market as an accent color.
Our client this month chose to bring that color into her island. Omega makes a wonderful blue called Blue Lagoon. It's a great color when leaning towards a farmhouse style. It makes the statement that you are willing to take that leap to bold.
When I first met with my clients, they wanted a simple look with just a hint of detail. I showed them Omega's door, Renner and they fell in love with it. This door style helped bridge our taste from modern to farmhouse. They had shared at the time that they wanted a rustic looking hickory floor throughout the kitchen space and the addition, so we felt the Pearl colored paint, accompanying the blue island, would accent the floor nicely. A nice farmhouse, apron sink was added.
Stainless appliances are still the hot look for most clients. Our clients chose a beautiful 36″ commercial range. It brings todays modern/commercial look into a farmhouse feel. Full quartz splash accented behind the stove makes for easy cleanup after she cooks. Gas stoves are still preferred in the market, making quick heat for today's busy lives. Dupont's Zodiaq quartz was chosen for the counter tops in their quartzite/marble looking London Sky. It's another material and color that bridges the gap of today and yesteryear. It blends well with the Pearl White main cabinets to give it a calm feel and it really accents the beautiful blue island. A beautiful pewter handle finishes off the look, again to mix modern and farmhouse.
Today's clients are more brash and daring with what they choose for their kitchens. With so many avenues to look at product and kitchens through Houzz, Pinterest and all the other internet options, people are honing in on their look faster. Unfortunately, most people don't know how to bring the materials and colors together so this is where our expertise shines. I personally enjoy today's market and helping people bring their vision together. As long as they Dream First, It's easy to bring their thoughts and our design skills together.
Bon Appetit!
Tim Holick (Food A Holick)
Before and After Photos:
This entry was posted in
Kitchen Remodeling
on
.