Good Design Includes Storage and Functionality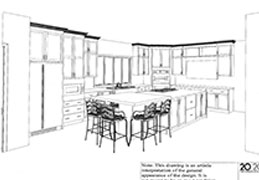 When you are thinking about a new kitchen, it is important to remember that good design includes a mix of design features for storage and functionality in addition to achieving the look you are going for. It is relatively easy to dream about the look of your new kitchen, the finishes, the colors and so on; but you should also think about the functionality you need to make your kitchen a place you enjoy working and entertaining in. Taking a little time to think about storage and functionality will give you a kitchen that not only looks beautiful, but will be a joy to work in.
Start with a list of questions.
Start by asking yourself what features are missing from your current kitchen or what existing features you find annoying so that you can get the creative juices flowing.
Do you lack storage space? Are their large pots and pans you have trouble finding a place for? Do you have too much on your counters because you don't have enough storage space or enough convenient storage space that makes it easy to get at small appliances such as mixers?
What about the placement of your appliances? Is there a flow that makes it easy to access the refrigerator, stove top and oven while you are cooking and baking?
Consider how often do you shop. Do you purchase in bulk? Is there a pantry large enough to hold what you typically purchase?
Who does most of the cooking in your household? Are they left handed or right handed?
Is my current oven large enough? My sink deep enough? Do I need water near my stove top to fill large pots?
What is the style of cooking you do most often in your home: Family style recipes, gourmet gatherings, bakery style sweets, quick and easy meals for on the go or takeout and delivery? How you configure your kitchen for cooking, entertaining and cleanup might be different depending on your cooking style.
How many cooks do you have in your home? It is a good idea to include all of the cooks in the house in your Dream First thinking because they may have some ideas you haven't thought of. Ask everyone to give input into the areas in the current kitchen that cause frustration and let them add to the wish list so you get a rich list of concerns and ideas to enhance the storage and functionality in your new kitchen.
Save
Save
Save
Save
Save
Save
Save
Save
Save
Save
Save
Save
This entry was posted in
Kitchen Remodeling
on
.