Kitchen Lighting
Don't forget to think about the kitchen lighting you want in your kitchen. Many people make the mistake of putting one ceiling mounted light and expect it to illuminate the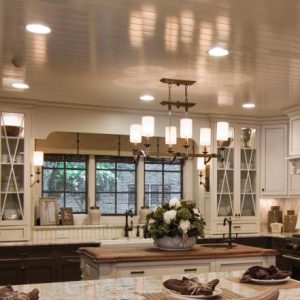 room. There is nothing worse than dark spots in your kitchen when you are trying to read a recipe or prepare food. Besides, who wants to work in a dark and gloomy place when they can have a light and bright space? There are four types of kitchen lighting to consider for your kitchen. Not only does kitchen lighting illuminate, but it also helps to decorate and accentuate.
Ambient lighting. This is the general lighting which is most often found in kitchens. Fixtures on the ceiling, pendant lights, down lights and chandeliers. It creates a warm glow that fills a room, softens shadows and helps to make people feel instantly welcome in a kitchen.
Task Lighting. It is the workhorse of illumination and provides adequate light in specific areas for tasks like chopping vegetables and reading those recipes. Task lighting is directional, usually facing downward between a person's head and the work surface. Under cabinet lighting is used in kitchens for this purpose and is a must. Another good example is a pendant or recessed fixture over the sink. If a kitchen remodel includes a pantry, make sure to specify task lighting there as well.
Accent lighting. Is used to add visual interest and drama to a space. It is also directional lighting used to spotlight a feature such as an accessory or a plant. In kitchen lighting it can give depth and dimension to add fixtures inside glass-front cabinets to illuminate dishes, glassware, and other collections as well as recessed, adjustable low-voltage fixtures used to spotlight art.
Decorative lighting. Pendants, chandeliers and unique lighting, even small table lamps can also be used as decorative lighting where the fixture is a focal point because of its design, color or texture. This type of kitchen lighting usually creates drama or extra interest in the room. If cabinets do not reach all the way to the ceiling, that space can be a great spot for some decorative lighting.
As in any room in the house, the ability to adjust light levels in the kitchen is a great option to consider. When cooking or cleaning up, a bright light makes the job easier and more pleasant. For leisurely dining and conversation, special occasions or romantic moments, dimmed lights create great ambiance.
It is important to make kitchen lighting considerations as you are working with your kitchen designer so outlets and other electrical needs can be considered during the creation of the design.
This entry was posted in
Kitchen Remodeling
on
.