How To Survive A Kitchen Remodel – Part 3
How to Survive a Kitchen Remodel – Part 3
Choosing the Right Contractor
In most cases, you will be hiring a contractor to do some of the work on your kitchen remodel. If you are not familiar with any contractors Angie's List or Home Advisor as well as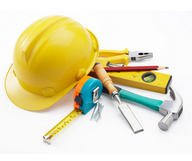 referrals from friends and neighbors are a good place to start.
Make sure your contractor has a written contract that specifies what he/she will and will not do. It is imperative that they are licensed, insured and skilled in the type of work you are going to have them do. Check their references and check their standing with the local Better Business Bureau. Make sure they are someone you feel comfortable working with and that they will listen to you, respect your wishes and will work with your kitchen designer.
Working With Your Contractor
It is important to make clear who is responsible for each part of your kitchen remodel and when tasks will occur and be completed. Get a schedule of the days the contractor will be on site and what work will be done that day. Often one part of a remodel cannot be started until another part is completed. It is important that there is good communication between you, your designer and the contractor on the schedule of work.
If something comes up that you need to make the contractor aware of during your kitchen remodel, make instructions written and clear. If the instructions are about the kitchen remodel have a signoff of understanding by all parties. Visit with the contractor at regular intervals, preferable first thing in the morning to review progress on the project but don't get in the way. Let them do their job.
Make your decisions up front and minimize the number of changes to the design or the construction. After the kitchen remodel project starts, midstream changes are costly and will delay your project. However, if something does come up, make sure you discuss it as early as possible.
Be sure your contractor knows how to reach you if you are not at home during the kitchen remodel. Occasionally decisions will need to be made and you want to be available to be involved in those decisions. It is a good policy to leave your contact information on a piece of paper pinned up in or near the kitchen.
When Your Remodel is Complete
You will want to test all appliances and hook ups to be sure everything is working properly. Open and close all cabinet doors and drawers. Test all of the electrical fixtures and examine the counters, tile and flooring. Your designer with the help of the contractor will create a "punch list" of any items that need to be addressed. Ask for all instruction manuals and warranties for your appliances.
Congratulations! You made it and it is time to enjoy your new kitchen! Visit our website and learn more about how you can remodel your kitchen. www.WoodPalaceKitchens.com
This entry was posted in
Kitchen Remodeling
on
.