Do You Love To Cook? Enter Our Recipe Contest
We're Looking For A Few Good Recipes!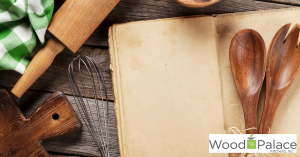 At Wood Palace, we like food. We blog about it, have a weekly radio show about it called Food-A-Holick, enjoy preparing it and of course enjoy eating it.
Each year we send our clients and friends some of our favorite recipes in a recipe card collection.
This year we would like to give you a chance to submit a recipe for our 2017 collection.
Enter Our Contest
So, we are sponsoring a recipe contest beginning July 10th, 2017 and running through August 31, 2017.
The grand prize winner will receive a $250 American Express Gift Card and will have their recipe prepared in our Wood Palace Kitchen showroom by a local restaurant chef before a live audience. And of course, you will be invited as our guest. In addition, the restaurant will feature your dish on their menu for one week and we will include your recipe in this year's recipe card collection.
There will be a second prize of a $100.00 gift card and a third prize winner of a $50.00 gift card so enter your recipe. Click this link to see all the contest rules and learn how to enter the Wood Palace Recipe Contest. Enter as many recipes as you wish. They must be able to be prepared in less than 30 minutes to be featured in the restaurant. There is no purchase necessary to win but you must be at least 18 years old. So dust off your recipe box and pull out one of those family favorites you make that everyone raves about. We look forward to tasting your entry.
Save
Save
Save
Save
Save
Save
Save
This entry was posted in
Recipes
on
.