Solid Surface vs Quartz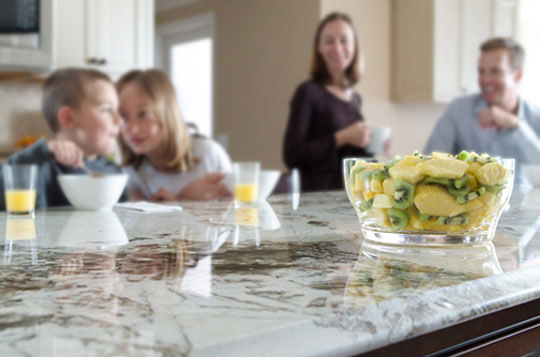 It doesn't surprise me that a majority of people are re-doing their counter tops in their kitchen and baths. The recession not only beat people but it also made us antsy to do some projects around the house. I know that has been my focus for a few years now with changing colors of my walls and adding some built-ins. My office built-ins have been my latest project after waiting to do it for 14 years. There seems to be a gratifying feeling with accomplishing something that you have been dreaming about for so long. It's not like I am in the business or something, haha
Counter tops have been the big item in the home that a lot of people have been doing over. I published a blog a few months ago on granite vs quartz. Today I would like to focus on Corian vs quartz. Corian is a man made solid surface material that is all acrylic. It is also the most well known brand so that is why I will focus on them. I have many of our clients ask me which surface they should go with. They have heard a lot about Corian and are equally hearing about quartz. Both materials are man made and both are non-porous so staining is not a factor. Both materials are maintenance free also. That is about all that makes them alike. Let me educate you on both materials.
Corian has been around for many years, dating back to 1967. Corian was introduced into the market as a substitute and better solution to laminated counter tops. It was never meant to go against granite. Their claim to fame was that it was non-porous and that it was solid all the way through the material so that if it got scratched, it could be sanded out. It also boasted that you did not see or feel where it was seamed. I have had Corian in all 3 of my homes in both baths and kitchen. I have always loved the fully integrated sink and the coved splash in the back so that I didn't have that unsightly corner for stuff to get into that was tough to clean. I also love that it has a softer look than granite. Those are all the good points of Corian. The one bad point with Corian is that you can't put hot pans or anything hot directly on its surface. You could either crack or burn it if you do.
Quartz on the other hand is a man-made ground up quartz/granite material that is put together with a resin. The resin makes it non-porous. It looks and acts like granite, the only difference being that the colors are made by man instead of it being natural from the ground. It's shiny looking like quartz and it is a hard and cold, non-forgiving surface if you drop a glass or plate on it. There are many beautiful colors to pick from and it has gained market share every year since inception. There are many brands to pick from like solid surface and they come in similar sized sheets. Seems are pretty tight and even but not as invisible as Corian.
So, the ever asked question of what should I choose for my kitchen comes down to how you want your counters to look and feel. If you want a softer and less shiny surface that is easy to clean and have no maintenance then Corian is a great product choice. If you want that shiny, hard and have a generally no maintenance surface then quartz is a great choice. Colors are always a very important factor in what to choose. Most of my clients choose quartz or granite for their counters but the ones that choose Corian are usually very happy with the results. Every product has its pluses and minuses so focus on what is right for your life. I'm sure you will be happy with either of the materials. Remember to always Dream First and everything will always fall into place.
If you would like more info on the product itself, visit www.woodpalacekitchens.com. You can also download my Dream First book on our site.
Bon Appetit!
Tim Holick
This entry was posted in
Countertops
on
.