Chicken Piccata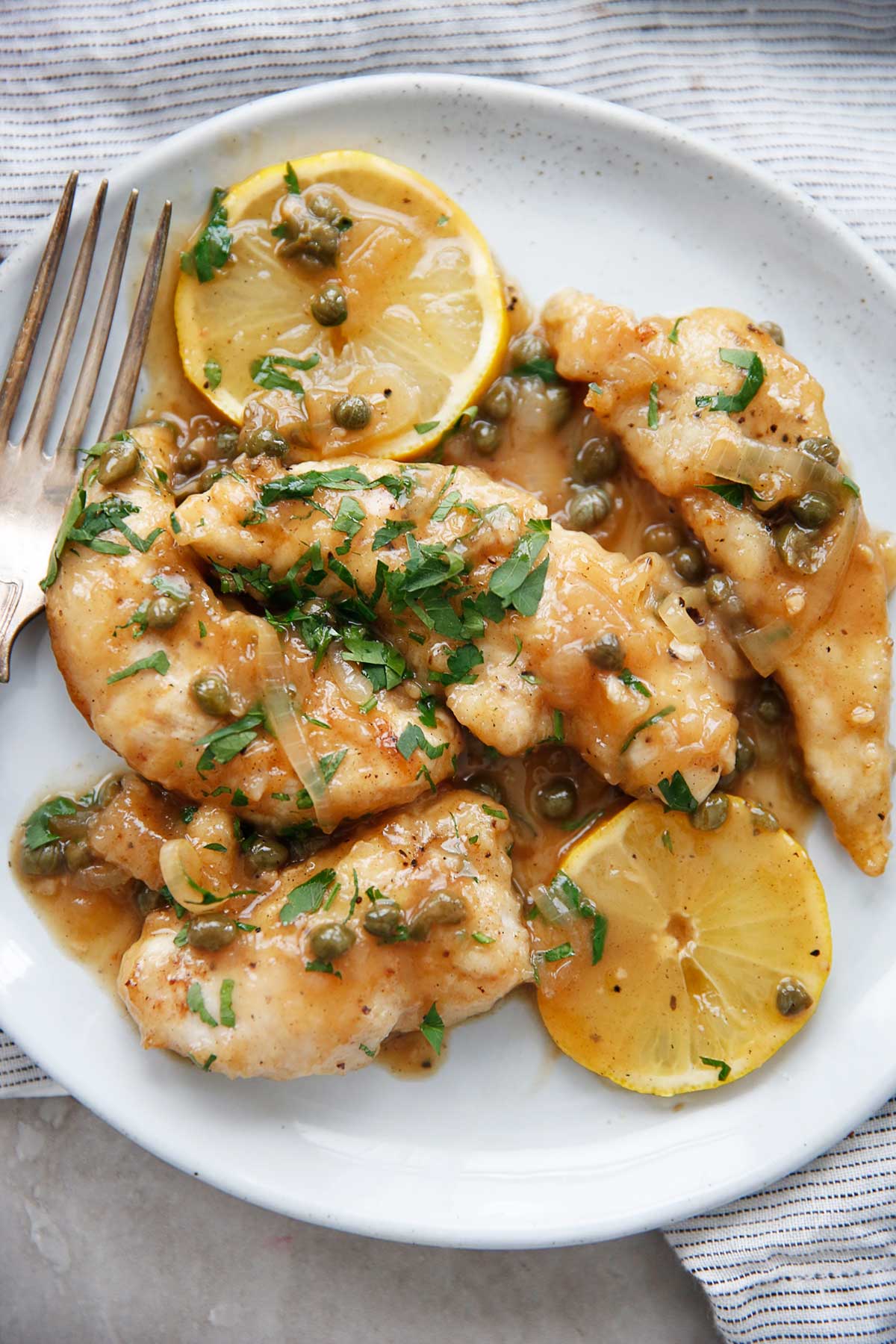 Here is an excellent, no-flour recipe for this yummy dish. Courtesy of Lexi's Clean Kitchen. This recipe is pretty quick to make, and healthy. Serve with steamed broccoli and cauliflower mash.
Ingredients
1 1/2 pounds boneless skinless chicken breasts
1/4 cup arrowroot flour
2 teaspoon fine sea salt, divided
1 teaspoon black pepper, divided
2 tablespoons butter, separated (see notes)
1 tablespoon avocado or olive oil
1 shallot or small onion, sliced thin
3 garlic cloves, finely minced
3/4 cup chicken broth
2 tablespoon lemon juice
1/4 cup capers
1/4 cup chopped fresh parsley
Directions
Place flour in a wide shallow bowl and set aside.
Pat chicken dry and season with 1 teaspoon salt and 1/2 teaspoon pepper. Dredge chicken in the arrowroot flour, shaking off the excess flour. Transfer to a plate.
In a skillet over medium-high, heat 1 tablespoons butter and 1 tablespoon of oil. Once hot, add chicken to skillet, working in batches if needed, to brown on both sides, about 3 minutes per side. Transfer to a plate lined with paper towels and set aside. Add more oil between batches if necessary.
Once chicken has finished, turn heat down to medium and add shallot and garlic to skillet and sauté until soft, about 3 minutes.
Add lemon juice, broth, capers, 1 tablespoon butter, 1 teaspoon salt and 1/2 teaspoon pepper to the skillet and bring to boil, scraping up any browned bits and stirring to combine.
Turn down heat to simmer and add back chicken, cooking until sauce has thickened, about 5 minutes.
Turn off heat and add parsley, taste and add more lemon juice if desired.
Recipe Notes
If more sauce is desired to serve over pasta, double ingredients for sauce.
Can sub ghee instead of butter!
This entry was posted in
Recipes
on
.