Butcher Block in Your Kitchen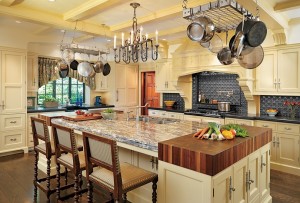 I love when I hear people talk about butcher block as a bad thing in the kitchen. So many feel that wood is not a sanitary material for the kitchen and how bacteria will grow if you cut on them. I'm here to tell you that butcher block and wood are not as porous as you might think. Why is it that all of the meat butchers over the years used butcher block as their cutting surface? The reason they have is because it's the best material to cut on and keep their knives sharp.
When Corian entered the market years ago, it was touted as the new surface that will revolutionize the kitchen for cutting and staining. It's true that Corian is a non-porous material and if you do scratch it, it can be sanded out. What they don't tell you is that it is not a great surface for knives. Cutting on Corian is easy and clean but it will dull your knives quickly. Granite or quartz will also. I have had Corian in my homes now for over 25 years and in the last two homes, I have always created a wonderful work and cutting surface on the end of my island like it shows in the picture to the right. I love everything about the surface and it serves as a great multi-function surface.
My existing butcher block piece of furniture sits on the end of my 4 foot x 8 foot island which had a granite top on it and most recently was switched to a quartz top because of the color. I love to make pies from scratch and do all of my rolling of dough on the 30 inch x 48 inch butcher block instead of that big surface of stone abutting it. Some people would die to have such a large surface of stone to work on but I prefer the butcher block. The ease of spreading flower and rolling is so much better on the wood. It sticks less than the stone or Corain tops. Clean-up is easy and washing it down is a breeze. I probably only oil my butcher block once a quarter and it looks good during that stretch. Mineral oil is the choice oil to use for butcher block. Never use olive oil to oil them as the build-up and odor eventually will not make you happy.
Cutting on my butcher block is great. Just make sure you don't cut red meats and vegetables together. I use a separate board to cut red meats. I thoroughly clean that surface with regular detergent and water. Blood doesn't seep into wood as much as you would think either. Wood is a much more dense material than you would think. Now it is true that I do make cut marks in my surface but as I oil it more, the wood and scratches take on a wonderful hewed effect and to me it is beautiful. If the surface does get to a point of ugliness, I have the choice to take out the top and sand it down to newness again. I have done this two times so far in  the 14 years I have lived here and it looks like new every time.
The next time you decide to re-do your kitchen, give butcher block a thought and work it into your area. I promise you that you will be very satisfied with it and it will give you that accent of another material that the new space longs for. I have to say that the biggest compliment that I get with my kitchen is when friends or family say; "this kitchen is so much you Tim." It makes me smile every time. You deserve that beautiful and well designed kitchen and every material that you choose will make it you. Dream First and everything else will fall right into place!
Bon Appetit!
Tim Holick
This entry was posted in
Countertops
,
kitchen design
on
.