Beef and Root Vegetable Stew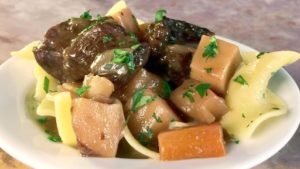 Ingredients:
3 tablespoons olive oil
1/2 cup all-purpose flour (for dredging)
2 pounds beef chuck (cut into 1-inch cubes)
1 yellow onion (peeled, medium dice)
3 cloves garlic (peeled, minced)
1 celery root (peeled, medium dice)
3 carrots (peeled, medium dice)
3 parsnips (peeled, medium dice)
1 bunch thyme
2 fresh bay leaves
2 cups red wine
4 cups beef stock
1 pound wide egg noodles (to serve)
4 tablespoons unsalted butter (room temperature)
1 bunch fresh parsley (finely chopped, to serve)
Kosher salt and freshly ground pepper (to taste)
Butcher's twine
Directions
1. In a shallow baking dish, add flour and season with salt and pepper. Set aside.
2. On a work space, pat meat dry with paper towels. Dredge meat in flour mixture, shaking off any excess. Set aside.
3. In a large Dutch oven, over medium heat, warm olive oil. Working in 2 batches, add meat and arrange in a single layer. Deeply brown on all sides and transfer to a bowl. Set aside.
4. To the same pot, add onions, garlic, celery root, carrots and parsnips and season with salt and pepper. Cook, stirring occasionally until the onions have softened, about 3-4 minutes.
5. Using butcher's twine, tie thyme and bay leaves into a bundle and add to pot. Cook, until vegetable mixture has softened and caramelized, about 12-15 minutes.
6. Add wine and reduce by half, about 5-7 minutes.
7. Add browned meat along with any accumulated juices and stock to the Dutch oven. Stir to combine. Bring to a simmer and cook until the meat and vegetables are tender, about 1 and 1/2 – 2 hours.
8. Prepare egg noodles according to package directions. Drain and stir in butter, allowing to melt. Add parsley and stir to incorporate.
9. To serve: Divide egg noodles amongst bowls and ladle beef stew over the egg noodles. Serve
Tip: Get creative! Substitute your favorite medley of root vegetables to make it your own!
This entry was posted in
Recipes
on
.