Apple-Cranberry Crisp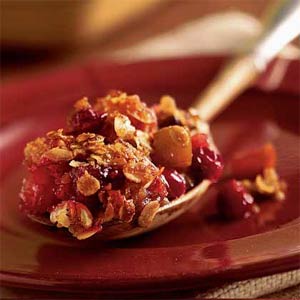 Ingredients
3 cups cubed Granny Smith apple (about 1 pound)
2 cups fresh cranberries
1/2 cup sugar
Cooking spray
1/3 cup whole wheat flour
1 cup regular oats
1/2 cup packed brown sugar
1/4 cup canola oil
Preparation
Preheat oven to 350°.
Combine the first 3 ingredients in a medium bowl; spoon into an 8 x 8-inch baking dish coated with cooking spray. Lightly spoon the flour into a dry measuring cup, and level with a knife. Combine flour, oats, sugar, and oil, stirring with a fork until crumbly. Sprinkle over the apple mixture. Bake at 350° for 40 minutes or until bubbly.
Yield: 10 servings (serving size: 1/2 cup)
This recipe is from Cooking Light.
This entry was posted in
Recipes
on
.